When Does It Make Sense to Outsource Document Scanning?
Outsource document scanning is being the trend in the current scenario due to the issues generated by paper documents in business firms across the world. Slow decision making, untidy atmosphere, and space loss are some among them. Since outsourcing document scanning helps businesses to get rid of such issues and boost productivity, it is gaining higher recognition.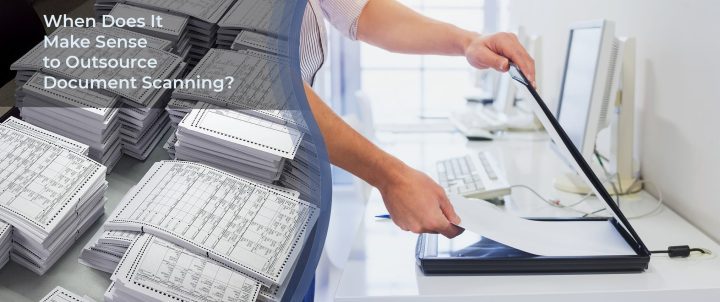 As everyone thinks, the document digitization services are not that easy, especially when you have to handle bulk data. Scanning thousands of pages need costly equipment, a dedicated team of staff, and a workflow to ensure you do it right. 
Businesses are well aware of the benefits earned by considering the outsourcing of document scanning. This might be the reason behind growing number of outsourcing firms. But it is hard to find when you have to outsource the document scanning. 
When to Outsource Document Scanning?
Scanning large format
While you handle wide-format documents, you will have to purchase scanners for completing it without errors. Especially, while working on drawings of engineering, newspapers, and blueprints of organizations. It will be a tiring task for your staff to handle both the core works and scanning simultaneously. It, hence, should be noted as the first situation to consider outsourcing.
Scanning Bulk documents 
Scanning a paper is simple. But think of scanning thousands of messed documents in just a day and indexing them as well. The task will be a horrible plan to allocate to your employees while they have to meet their deadlines. Also, the pressure on employees may let them make errors in the process, which will cost so much from your budget as well. But you can avoid creating such a scene by outsourcing the scanning services to experts. 
Scanning ancient records
Scanning historical records need top-most care as the condition of paper matters a lot. Flatbed scanning is the method that is used most commonly for historical scanning. Since the fragile documents are extremely dangerous to handle, it requires expert assistance to manage them. So, this is another situation where you should use outsourcing of document scanning services. 
To fasten scanning
While you require to meet the deadline quicker for several reasons– like auditing or compliance- you will have to finish the scanning process at a faster pace. In this state, you can outsource the scanning services to any company that can fit into your deadline. 
Manual indexing 
The major issue in scanning and indexing is finding the document from the heap of records. It is not just pressing the start button and waiting for your documents to get scanned. Only the manual indexing conducted by experts can help you here. 
We hope these factors has helped you to determine whether to in-house or outsource your document scanning. 
If you are searching for an outsourcing partner to assign your crucial document scanning services, Scanning and Indexing might be a name you have went across several times. With the right amount of resources, we offer any kind of scanning-indexing tasks at a reasonable cost. If you hold more doubts about our services our experts are here to help you. Drop us a mail at info@scanningandindexing.com.