Convert a Book to PDF with Book Scanning Services
Book digitization is important to protect the precious books from natural deterioration and for disaster recovery. Digitization could also be necessary to comply with the business regulations or with any guidelines of the industry. Once the books are scanned and converted into electronic form they last forever, and they are easily accessible for different purposes. As with most of the specialized services, book digitization requires specialized expertise and advanced tools to render quality conversion. Businesses often outsource book scanning service to leverage the benefits they offer including cost-efficiency and quick delivery of quality output.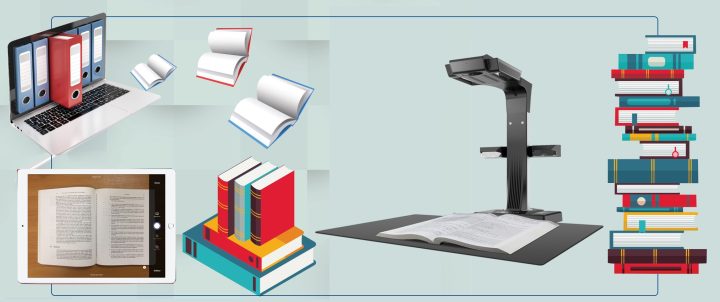 Detailing & Quality
The intention is to capture each detail of such images with clarity and good resolution. Special care is taken when scanning and indexing bound books. They are scanned on non-destructive book scanning equipment by skilled technicians. Books are placed on the flat scanning surface which has high megapixel cameras to capture an image from the top to avoid any blur or distortion. There are robotic scanners too which require minimal human intervention allowing to digitize even most fragile text without any damage. If the books can be scanned by carefully cutting the binding, it can be processed at a higher speed. No matter whichever method is utilized the outcome is always a high-quality digital book that can be electronically accessed in the future.
Different Formats
Once the scanning process is completed the images which are produced as the output go through strict quality control measures. Then the scanned books are converted to a desired digital format such as PDF, JPG or Microsoft Word. Normally the PDF format is preferred as it eases the accessibility. The PDF books can be converted into text searchable PDF files, PDF files with bookmarks or with links to the first page or Index page or glossary of the book as per the requirements.
Below are the benefits of outsourcing to the best book scanning service provider to convert the book into PDF format:
They convert the books into PDF files which are fully text searchable by using the OCR (Optical Character Recognition) technology which is beneficial as the eBook can be easily searched for any specific information.
High-resolution PDF format where the images are converted from 24-bit color or grayscale images to the PDF form.
Usually, face up scanners are used so that minimal destruction is done to the bindings and even the process becomes faster.
Easy autocorrection of curved text lines is possible and other issues like shadowing and text compression formed due to the bindings can be easily eliminated.
Frequent quality checks as per the procedure to ensure a high-quality eBook.
High security of information is ensured when being scanned into PDF format.
When the conversion is performed by a competent book scanning service provider, the quality, security and compliance procedures are given the highest priority which results in top-notch deliverables.