Optimize Business Revenue with Real Estate Photo Editing Service
Good real estate businesses must present their properties and projects in the right light. Real estate photo editing service is not meant to manipulate images to make them look more beautiful. It is to get better clarity and understanding. If you are looking for a real estate image editing solution, there are two options for you. The first option is to create an in-house team. But this comes with its own set of overhead expenses and needs additional infrastructure. The second option is to outsource the work to a company that already has a professional photo editing team.
Outsourcing has evolved to be the most popular option among businesses to get their business processes completed efficiently on-time. Here are a few reasons why you should outsource image retouching service for real estate businesses.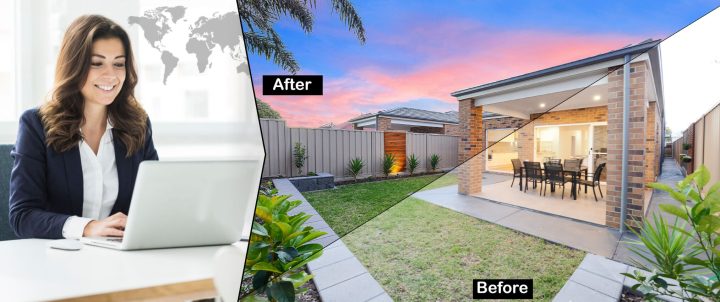 You can acquire the right talent and skills
The good thing about outsourcing is that you have immediate access to talent and skills for any job. They hire professionals, train them and make them work on projects. A good outsourcing company will provide you with the best service.
You can save money
As already mentioned, if you want to create your photo editing equipment, you will need to provide the appropriate infrastructure. Building a new infrastructure department, hiring employees, training them and paying their salaries can cost you a lot. On the other hand, outsourcing companies have built everything, so you do not have to worry about all these costs. They do the work for you a small fraction of the cost.
Core business gets more focus
For real estate, the main business is related to land, real estate and construction. When you have to set up a department like photo editing, no matter how small it is, you will need to compromise your time and energy on it.  With image editing outsourcing, you can better focus on your core business.
Higher quality of service
The primary business always creates income for you. For real estate, dealing with property and land is the main business. For image editing companies, image editing is the core business. This means that they want to focus all their attention on this service. They have a team dedicated to this job. That's why you can get better quality service at a lower cost.
On-time delivery of work/projects
Outsourcing companies don't want to ruin their reputation, hence always ensure timely delivery of work. This is especially true for real estate photo editing service in India. Real estate image editing companies from all over the world hire Indian BPOs to do image editing for them due to lower costs and on-time delivery of work.
Real estate requires a lot of travel which doesn't leave a lot of room for image processing. Therefore, hiring real estate image processing makes a lot of sense for the businesses so that they can deal with clients while BPOs deal with their extra work. It is crucial to select the right company for your work. Make sure you check their online reputation, reviews, portfolio, and trustworthiness before deciding to give them your project of image editing.