Outsourcing Document Scanning Service helps Data Management
Data has become the most precious asset for businesses worldwide. As more businesses adopt digital transformation, it becomes the need of the hour to manage digital data efficiently. Data management involves many meticulous steps and processes that requires experience and expertise. It is not always that businesses of all scales are able to manage data as effectively, data management not being their core expertise. That's when they consider outsourcing it to competent experts who specialize in document scanning services and complete data management. Outsourcing comes with many advantages the most popular being cost-effectiveness. Here we will see 4 interesting reasons why businesses of all scales prefer to outsource document scanning services to manage data better: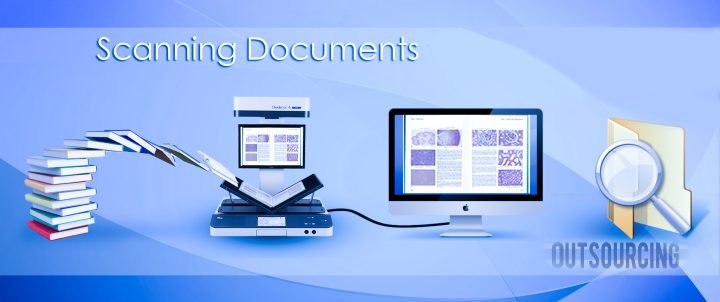 Time Saving
Businesses deal with different types of data on a daily basis. There's customer data, product data, vendor data, transaction data, pricing data, operations data, accounting data and more. Data amounts to a large volume as the business expands. Apart from the data businesses generate, there's a lot more information they collect from reliable external sources such as the internet and market research. Most of this information may not be in the digital format. Outsourcing scanning and indexing let businesses deal with a variety of bulk data on a timely basis without compromising on the quality.
Mitigates Risk
Data is a risky business! As the business expands, the volume of data it deals also expands. There's a lot of critical information which the business cannot afford to lose or leak. Managing data security is a huge responsibility as data theft has become a frequent challenge across the world. High-end cyber security tools and technologies have to be in place to ensure complete data security which is still a risky affair for most businesses. Not all scales of businesses can afford such high-end digital security solutions and the expertise they rightly demand. Outsourcing data management mitigates all risks related to data to the outsourcing partner as they will be responsible to ensure data security.
Offers Flexibility
The more you outsource, the more flexibility your business can benefit from! As you outsource document indexing services, you can leverage the outsourcing partners technology investments and resource expertise. Further, outsourcing is scalable as you can rely upon the outsourcing partner during lean and peak business periods without increasing the overheads unnecessarily. The business can also gain from the varied services the outsourcing partner offers such as data cleansing, data formatting, data conversion etc. without affecting data integrity and quality.
End to end Data Management
Typically, the outsourcing partners offer end to end data solutions to make sure that all data of a particular business remain top quality without any discrepancies across departments and processes. Everything, from data entry to reporting and compliance are taken care of by the outsourcing company. When you outsource document scanning and related data services to a single service provider, they will ensure that all data comes in the formats required for each department without messing up the quality and integrity. They will also offer reliable data conversion services to various formats as required by the business for various purposes.
Outsourcing business processes, especially data management, is proven to benefit all businesses across industries and geographies. Make sure you choose an accomplished outsourcing partner well-experienced in document management for best results.