The Important steps while Performing Document Indexing Services
Efficient document indexing services is a prerequisite for any organization and its employees as it facilitates easy information search and retrieval from important documents/records stored in an ECM system. And there are many forms for the same process, which varies according to the source docs.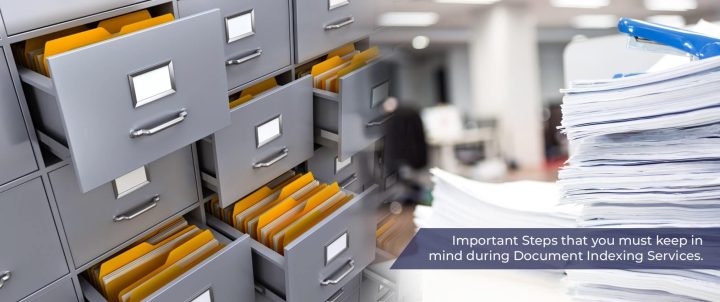 And these days indexing scanned documents or capturing data from paper documents into ECM systems doesn't require an actual indexing procedure at all. How though? The capturing process simultaneously indexes the documents automatically. Examples for this would be online/electronic application filling and submission by users. Another one would be scanning of cards at the required place where information is read automatically. The system is capable of identifying what form the data is in and processes it automatically.
Business organizations receive paper or digital documents of varying types for indexing requirements for better e- document management. The process is completely dependent on your specific working environment, with advantages or disadvantages, and there are several options to choose from in document web hosting.
Below are some of the best methodologies that will work for your business without incurring much operational cost for an efficient and optimized ECM system through indexing:
Manual Indexing Method from Images
This is a traditional form of indexing scanned documents often using patch pages or barcodes that maps and details the start of a new document, and then indexed from a "heads up" imaging workstation. The process is generally used to capture high volumes with its workflow, where manual operators enter index data while with a parallel view of the optimized or zoomed image with the appropriate data section/fields.
The data entry operator can enter the correct data, at highly reduced errors with configured information validation protocols in each field.
The Drag and Drop OCR Method 
As the name goes, this is a method in document indexing services where the data entry operator "drags" the needed portion from the image. By doing so, an on-the-fly OCR is performed by the system (data will be contained in the Windows clipboard), and the data can be "dropped" (pasted) in the proper index field. This is a quicker form of indexing with reduced keystroke count and mainly done by part-time data entry personnel.
Indexing from Paper Documents
This is different from of document web hosting method where the scanning happens only after processing the data from the paper documents (done using a primary business application). The processed paper is made into a printed barcode cover sheet or label that contains all the information.
The cover sheet or label, when scanned, automatically extracts the indexed information.
The Zone OCR Method
This method extracts data from fixed fields on bulk or similar paper documents such as various types of application forms. It uses specific software having pre-loaded design templates of the forms so that it can exactly extract the data you want from the desired 'zones'.
The Forms Processing Method
This is another level or form in Zone OCR e- document management. Majorly used for high volume forms data capture tasks from fixed fields in forms. Irrespective of the data type, the form recognition technology it uses, it can determine the type of form being processed, using anchor points from pre-loaded templates. Its advanced states use different OCR (machine print) and ICR (handprint) engines.
Error Correction is the key component of this method – very efficient and accurate (image quality has to best), especially when combined with advanced validation rules.
Unstructured Forms Processing Method
Invoices lack a uniform form structure, and this method deals with processing such document types. The contained information will be located differently in the documents and varies according to vendors, as invoices don't have an accepted format or standard. This method also performs full-text OCR on the documents to locate and identify information using keywords and database lookups.
The Auto Classification Method
The method of indexing scanned documents uses software-based help that identifies document types during the capture process and can be used in all kinds of data streams. The document identification software will be set up and trained extensively according to specific requirements.
As explained above, the method of document web hosting for efficient e- document management, in your organization always depends on your working environment and requirements. And there are several ways to achieve automated data indexing using several means that uses less or zero paper documents or forms. And these methods will surely give you a competitive edge, by saving resources, time, and money which can be pooled into your core business aspects for enhanced business growth and success.