How essential is Document Indexing for Businesses?
As with any business, document indexing is an essential aspect. The old traditional documents were hardcopy or paper records that always amounted to thousands, if not, millions. However, with the current business timeline and digital capabilities at the forefront, organizations are achieving enhanced levels of productivity, efficiency, and growth.
With a broad spectrum of data indexing solutions available book indexing, and text indexing services have much greater demand among organizations apart from the others. Even multimedia documents such as audio and video files are also undergoing disruptive indexing procedures for enhanced levels of business capabilities.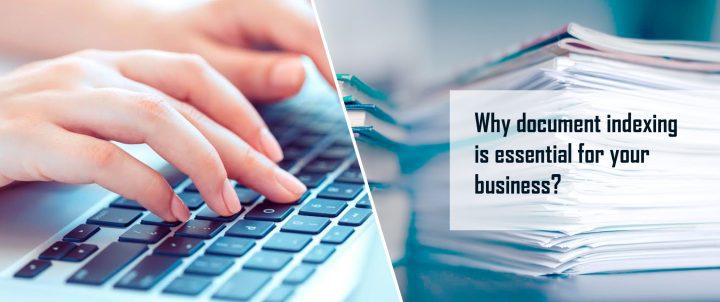 The challenges such as rising operational, expenses, physical/paper document storage/wastage concerns, lack of technology and expertise, etc. are effectively taken care of. It was possible with the proficient assistance from (offshore) outsourcing service providers for the:
enhanced and easy data access, search, and retrieval mechanisms

near-half operational cost-benefits

technological and personnel competence

high accuracy and quality aspects for outcomes

data security/confidentiality measures in place

strict adherence to compliance levels

round-the-clock support and quick TATs with on-time delivery, and more
So how are organizations benefiting with outsourcing document indexing solutions for enhanced decision-making and core competency focus that offsets their drawbacks?
Below is an outline of the Benefits offered by Document Indexing:
Storage concerns are highly eliminated with outsourcing services in 

book indexing

, 

text indexing

, etc. With the digitization of such physical documents done in a highly quick manner, office spaces are tremendously saved. The digital mediums (computers) only require a fraction of the digital storage space even for thousands of digitalized files.

Enhanced and rapid data access with exceptional data security and confidentiality protocols is possible with outsourcing indexing solutions. The access to data happens with some clicks, and you can find the exact files you are looking for in just minutes, if not, less.

With the help of digital indexing, organizations can make enhanced and the right decision for sustainable and successful growth. Critical decisions are always made based on their valuable information assets, and such services promote a rapid and highly exponential decision-making process.

The manual hassles of searching for paper/physical documents are long gone preventing them from creating a mess in the storage space while digging through the enormous lot. With 

text indexing

, searches are made easily by entering file names, saving enormous storage space, and reducing paper waste for a green alternative.

The internal information flow of a business organization is greatly enhanced with the help of 

book indexing

 or any sort of indexing solution. The information flow becomes expedited and highly efficient with digital indexing services compared to the old hardcopy documents that hampered every aspect of a company.

With

data indexing,

 information can be preserved for a long time and can be fortified with unfailing backup and recovery mechanisms. Paper documents are prone to destruction due to a lot of factors that lessen their long-term life. With digitization, it can be stored for years with all the efficient aspects still intact.

Efficient and vital internal collaboration among various personnel, departments, and management is achieved with all sorts of indexing services. Companies don't have to rely on burdensome paper documents anymore. Digital documents can be easily shared, transferred, viewed, with the help of indexing that augments an organization's progress.
These are the essential aspect that is delivered by outsourcing document indexing services from highly capable and competent service providers. It helps with exceptional document organization, storage, and logical information access, search, and retrieval, or even for future edits. This long-term alternative is highly advantageous for any company, regardless of its scale of operations that offers substantial benefits.